Hall of Fame Reunion Weekend
April 8 – 10, 2022
University of Illinois Urbana-Champaign
THE LIVESTREAMING SCHEDULE IS HERE!
Catch all of the weekend's activities on YouTube!
Friday, April 8
7 p.m. – Panel Discussion: Turning Pro: Using your Illini Media experience after college
Saturday, April 9
1 p.m. – Panel Discussion: The Future of Student Media
6:30 p.m. – Reunion Dinner and Hall of Fame Induction Ceremony
Sunday, April 10
10 a.m. – Brunch with Dan Balz and Memorial Paver Presentation
We have a full slate of fun activities, important panel discussions and ceremonies to honor and celebrate our Illini Media family!
If you were unable to buy tickets, we still encourage you to come to campus for Friday night's Open House, our panel discussions, and any other extracurriculars that might ensue.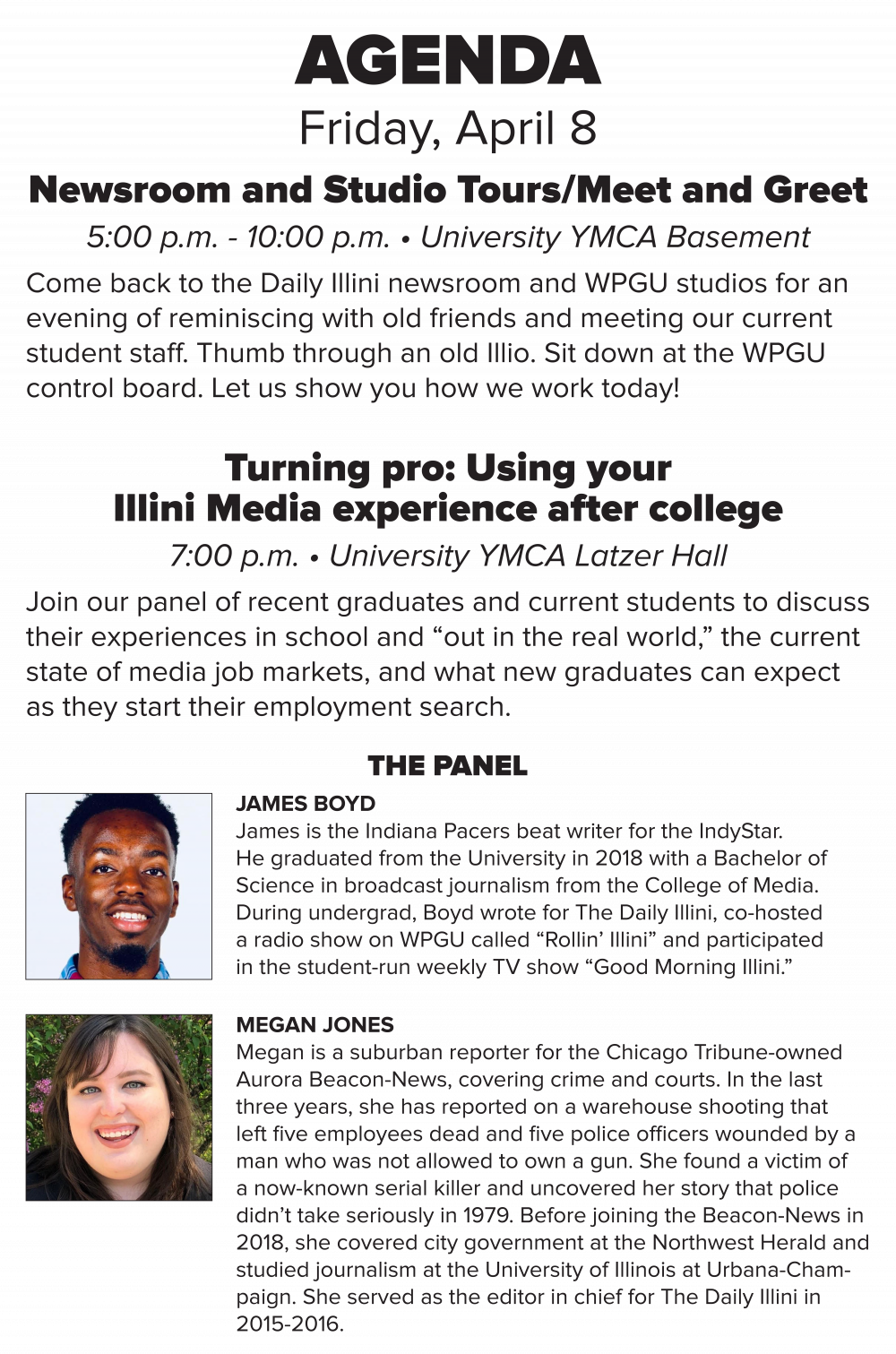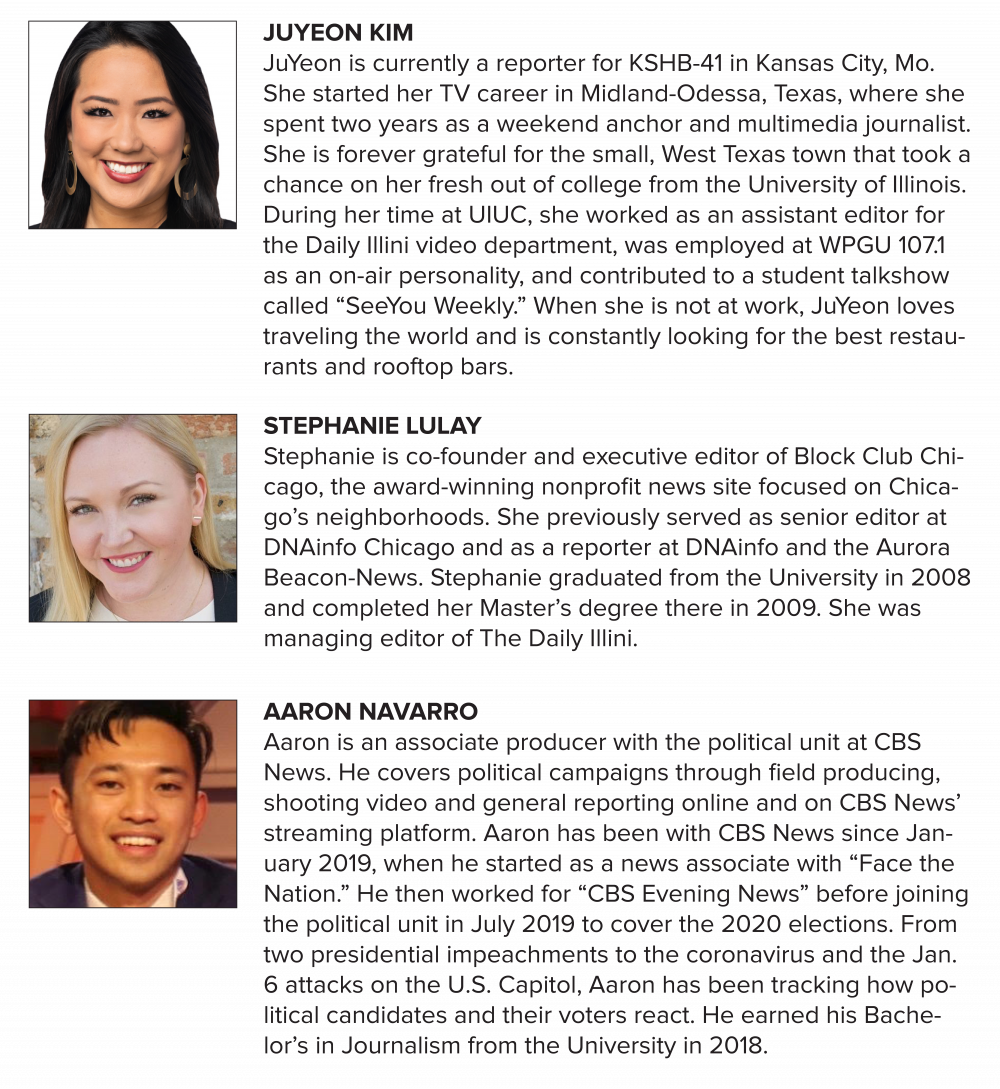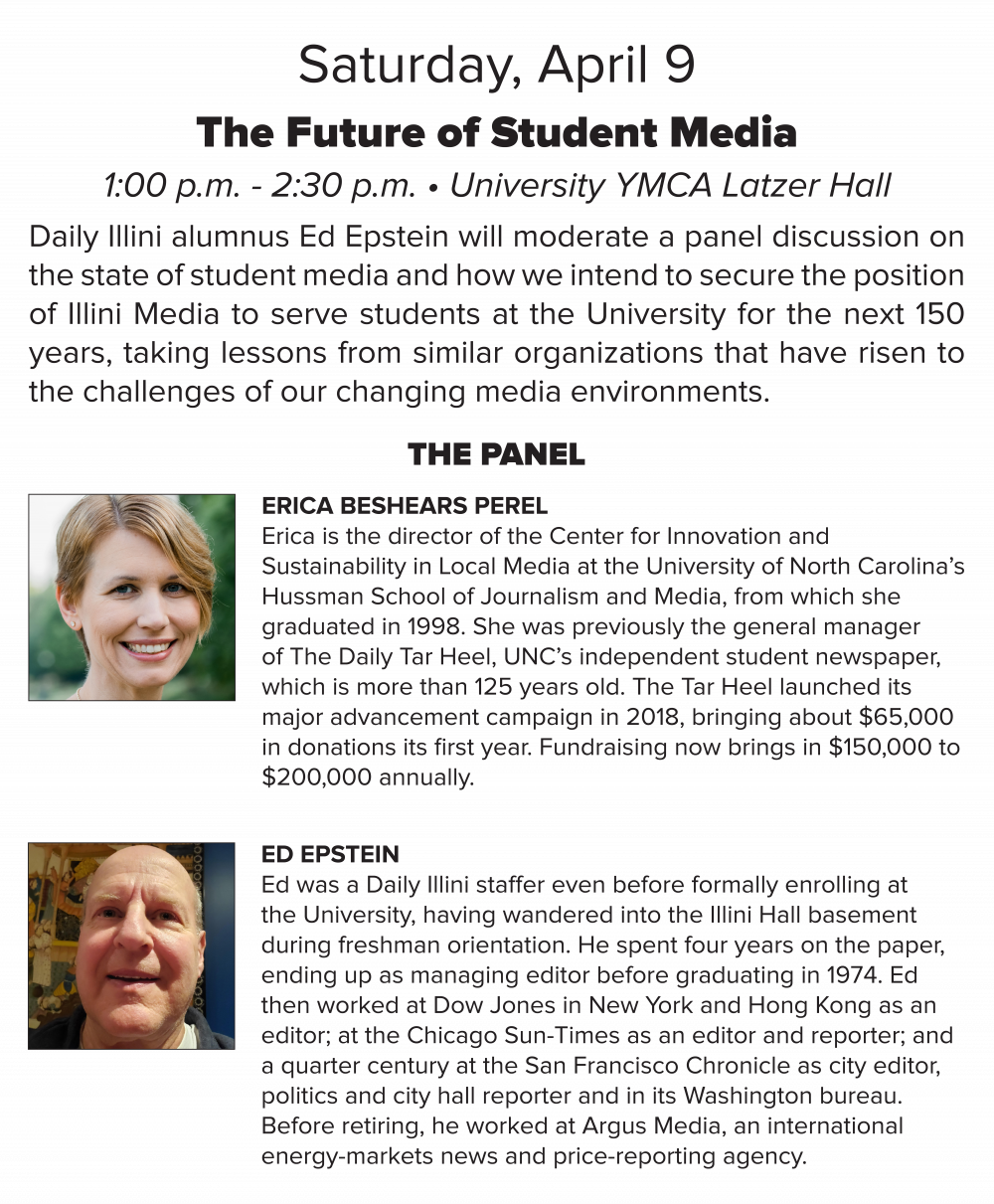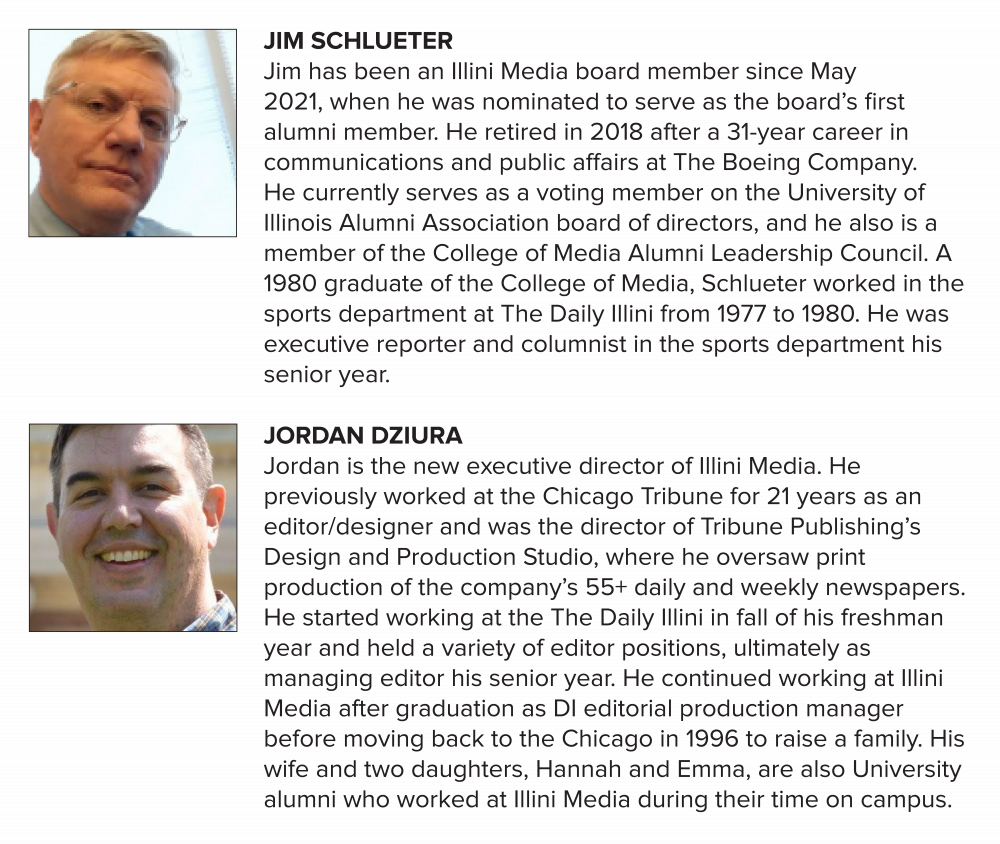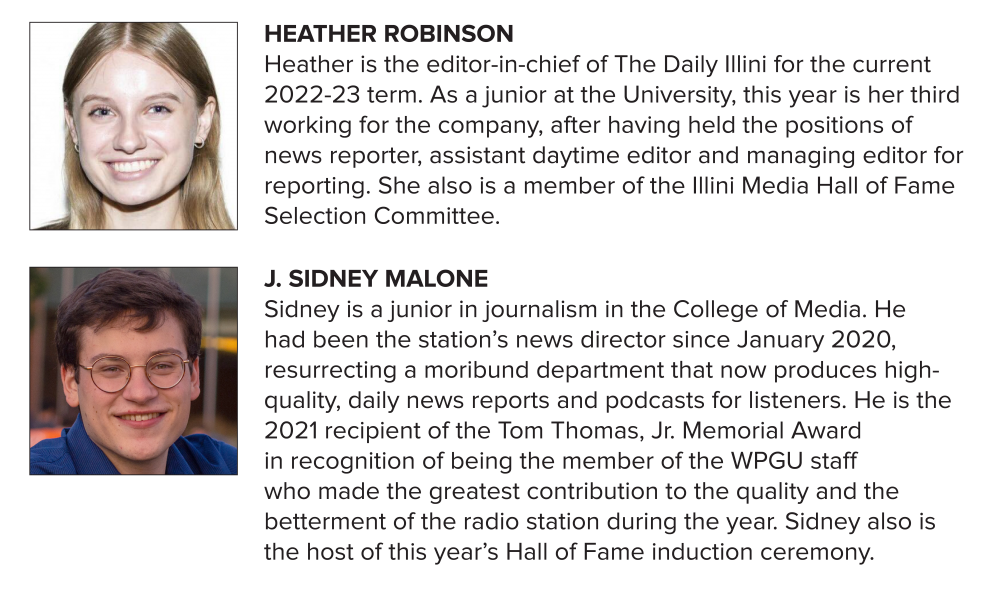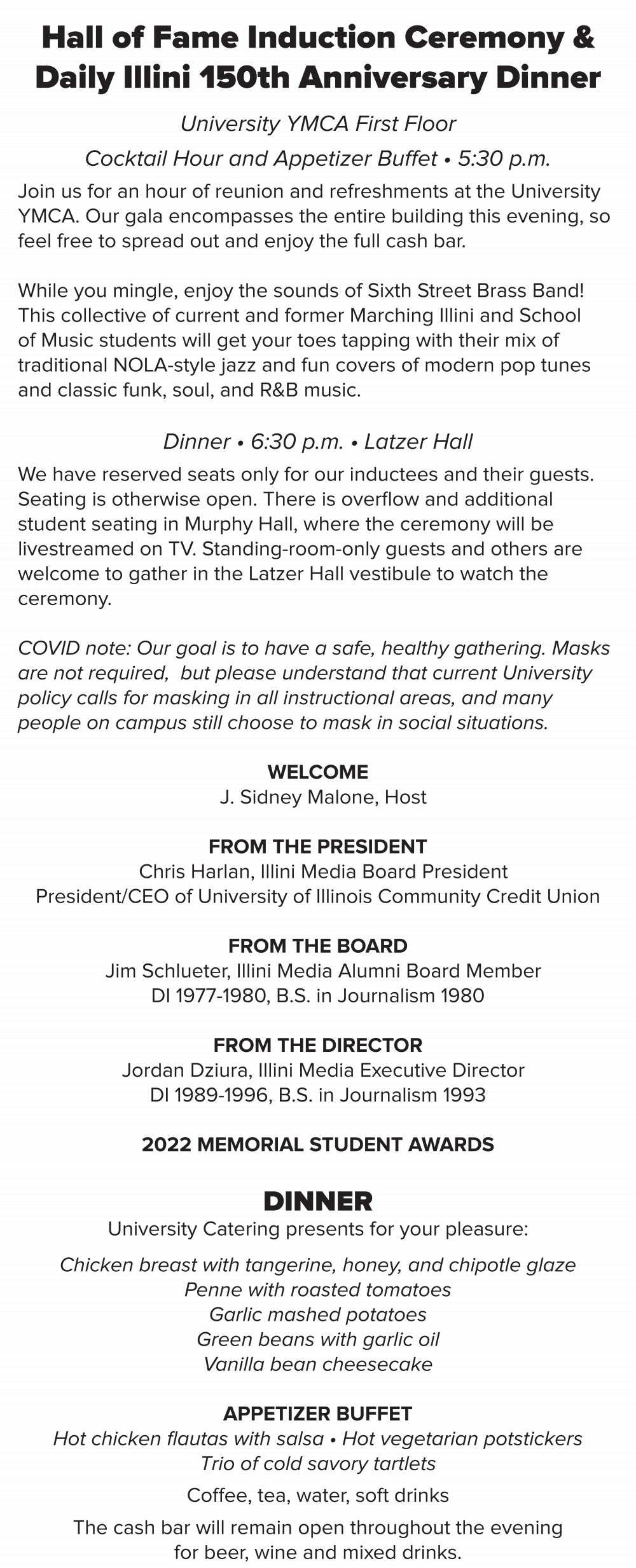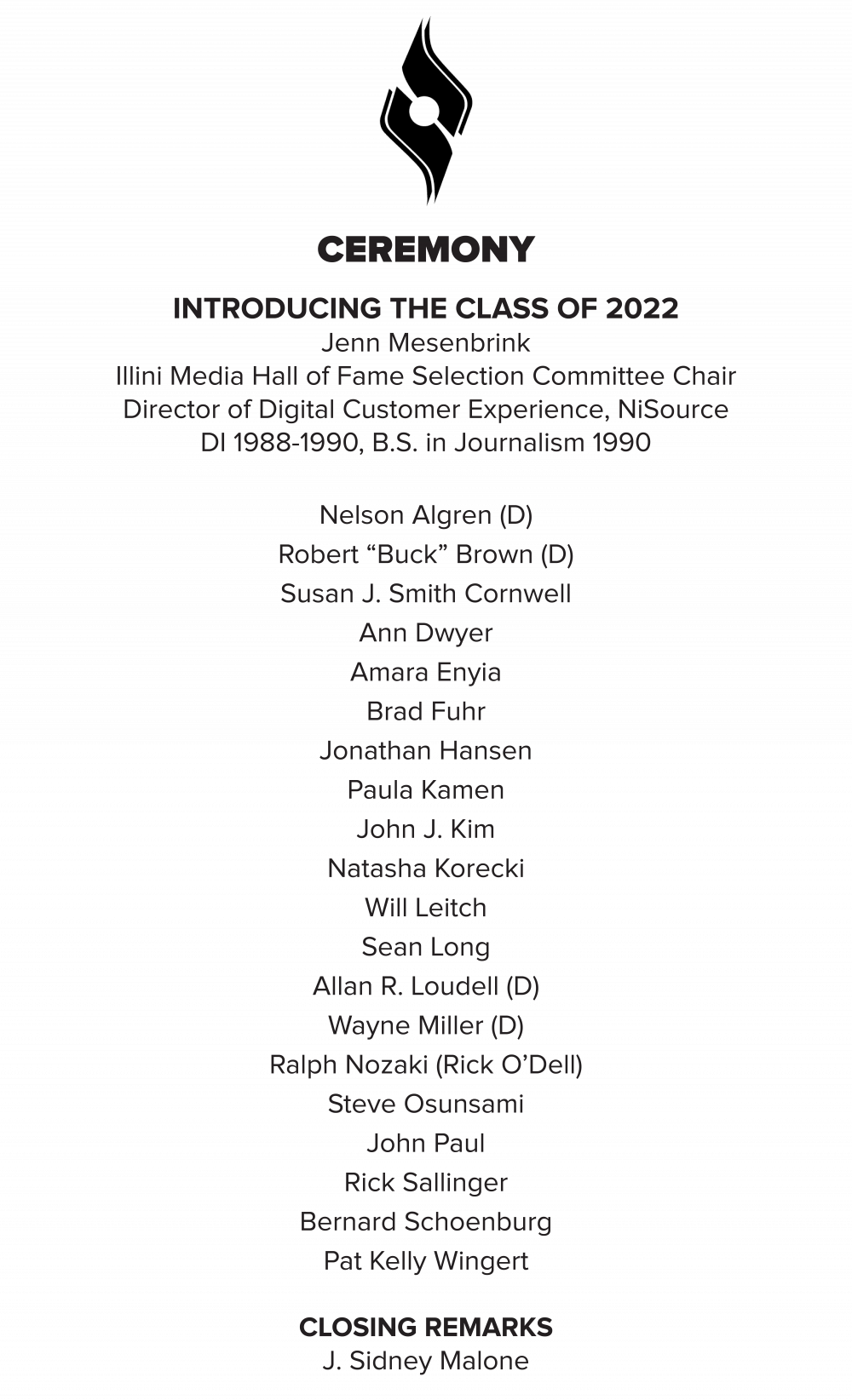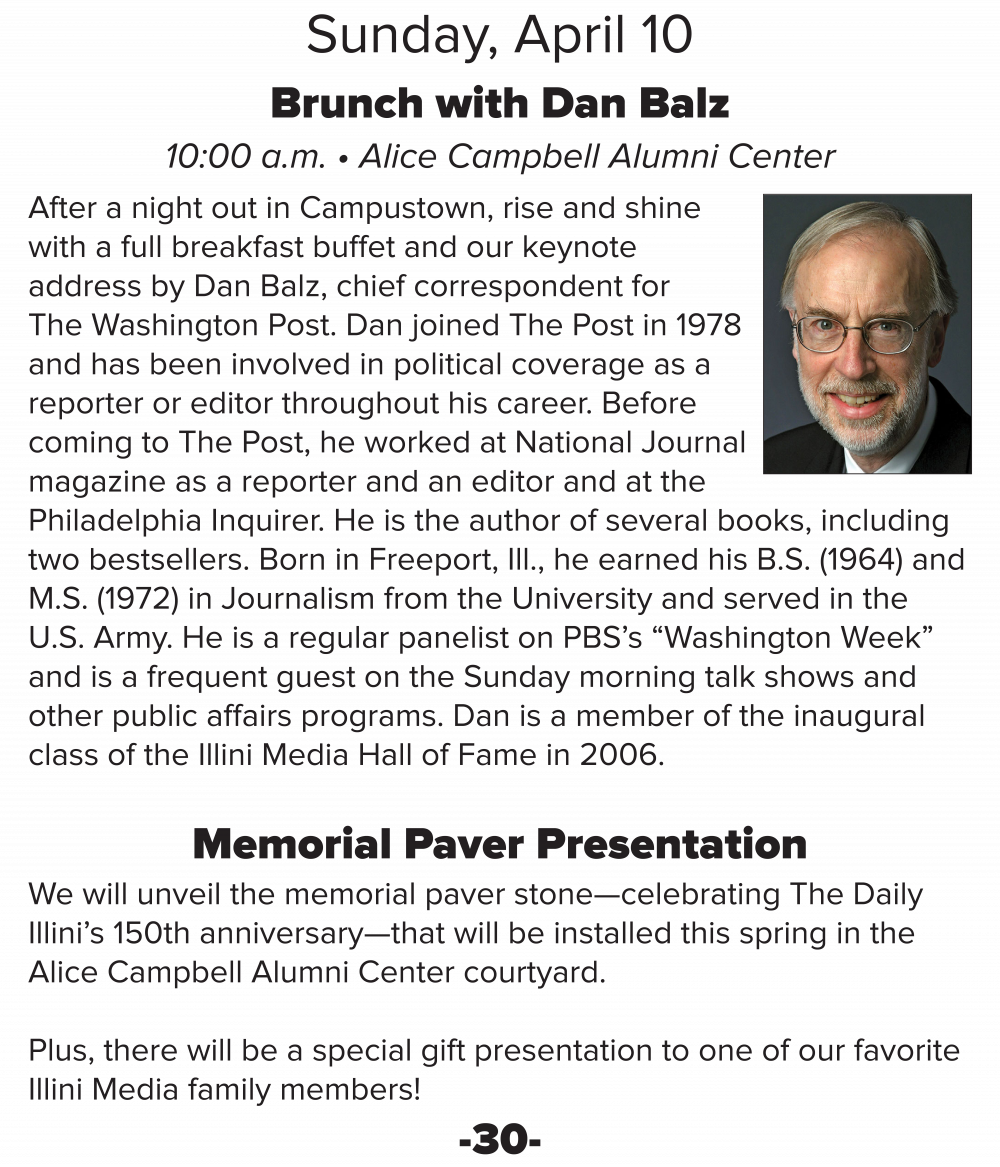 If you can't attend, please consider a donation to pay for students' meals at the festivities.
Further info on livestreaming of the weekend's events will be posted soon.
Questions? Contact us at reunion@illinimedia.com
Thank you, friends of Illini Media!
Alumni from across the country have banded together to create a weekend you won't forget.
Make plans now to surround yourselves with friends, colleagues and many of the brightest minds in media today.
Reunion Weekend Planning Committee
Jim Schlueter, '80 (chair)
Louise Gilmore Donahue, '76
Hayley Drozd, '17
Ed Epstein, '74
Chris Harlan, '13 – IMC board president
Maddie Heidtke – DI social media director
Rebecca Oriza – DI brand manager
Angelica Peebles, '17
Liz Shields, '06
Lisa Wells, '82
Hall of Fame Selection Committee
Jenn Mesenbrink, '90 (chair)
Linda Bergstrom, '80
Mike Cetera, '97
Kit Donahue, '81
Jordan Dziura, '93 – IMC executive director
Karen Hawkins, '97
Karen Huelsman, '80
Evan McLaughlin, '05
Charlie Meyerson, '77, '78
Erik Riha – IMC board member
Heather Robinson, '23 – DI editor in chief
Gwyn Skiles, '24 – DI managing editor for reporting
Susan Santoro, '93
Illini Media Company Fundraising Committee
Jordan Dziura, '93 – IMC executive director
Maddie Heidtke – DI social media manager
Melissa Pasco – IMC business director
Jacob Singleton, '19
Nancy Walker – IMC operations director