The Daily Illini
Student newspaper
The Daily Illini
The University of Illinois at Urbana-Champaign's primary source for news, sports, commentary and multimedia since 1871.

WPGU 107.1 FM
Alternative radio
WPGU-FM 107.1
On the air 24/7 with lively student personalities, alternative music, speciality programs, local news and sports coverage.

Illio
Yearbook
Illio
Preserving campus life, history and memories for thousands of students at the University of Illinois since 1894.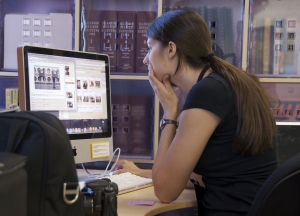 Illini Media is a nonprofit company founded in 1911 and is sustained by the generous contributions of advertisers, Illinois student fees, Illio yearbook sales, our alumni and friends.
Voice of the University of Illinois community
Illini Media's mission is to provide a unique experiential learning environment
to complement University of Illinois at Urbana-Champaign's academic areas;
to prepare Illinois students for future careers in print and digital media,
broadcast, marketing, public relations, sales, fundraising and business;
and to inform, enlighten and entertain the Illinois campus community.
We love what we do, and we love where we work.
"I won't bury the lede: My four years of experience editing, designing and reporting for The Daily Illini are the reason I have a career in journalism. Six months after graduation day, I accepted a job as a breaking news reporter at a major metropolitan daily newspaper I interned at over the summer — a jump-start granted by the connections I made and the skills I honed while working at the DI."
"When I was considering running for WPGU Program Director in 2010, I remember Jon Hansen (the Operations Manager at WPGU) telling me: "Nick, you want this job. This job will get you your first job after school — even if you leave radio". He was right, and I did choose stay in radio. I was able to interview, and later get the job with CBS Radio, because of the networking WPGU afforded me. I owe my very young career to Illini Media and the people around it."
"Although I work at a TV station now, my experience at The Daily Illini is proving to be super helpful. We're focusing more and more on writing stories for the Web, so having worked at the DI makes what I have to do now a lot easier."
"Over my four years working at Illini Media, I've been able to expand my industry skill set to where I feel incredibly more confident going into the workforce. The exceptional training and experience I have gained here has been a vital part of my college career."
My years working with the Illio were the most memorable I spent during my days at U of I. The learning experiences I had at Illini Media created some amazing career opportunities, including my current position at Balfour.
I graduated from The Daily Illini. It's the place where I learned the most about journalism, about leadership — and about myself.
"WPGU 107.1 FM defined my college career. Not only did I have the incredible experience of being on-air and hosting a morning show on a rock station, but as Program Director I was able to implement strategies and ideas with real implications. I quickly adapted to managing people, budgets, and working with our sister media outlets under the Illini Media umbrella. To this day, I am constantly drawing from my experiences at Illini Media and WPGU to inform my decision making process at my current job."