HUGH HEFNER
The Daily Illini: 1946-49
Cartoonist University of Illinois:
B.S. Division of Special Services for War Veterans, 1949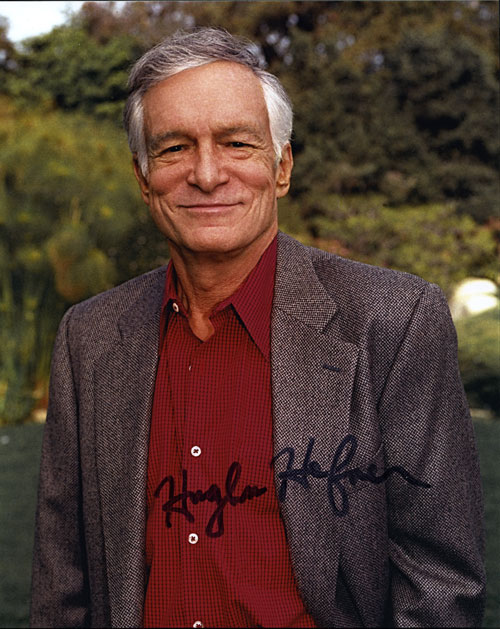 When University of Illinois student Hugh Hefner introduced readers of the campus humor magazine Shaft to a "co-ed of the month," it was a glimmer of the notorious Playboy empire he would begin less than a decade later.
After serving in the U.S. Army from 1944-46, Hefner attended the University and graduated in 1949. He headed back to his hometown of Chicago, trying to get this cartoons published and landing several copywriting jobs. His first big break came as a copywriter for Esquire magazine, but determined to launch his publication, Hefner stayed in the Windy City when Esquire moved its offices to New York. Convinced a market existed for a sophisticated men's magazine, Hefner raised the money in 1953 to produce the first Playboy — without a cover date because he was unsure a second issue would be published. The first issue sold more than 50,000 copies.
Hefner is now the editor in chief and chief creative officer of Playboy Enterprises, the largest-selling, most influential men's magazine in the world. By 1971, when the company went public, the magazine was selling 7 million copies a month and the Playboy family included clubs, resorts, hotels, casinos, book publishing, merchandising, a modeling agency, limousine service, record label and a TV and motion picture company. Hefner's Playboy Mansion West in Los Angeles is a mecca for entertainment industry superstars.
Hefner has received international publishing and press awards and was inducted into the Hall of Fame of the American Society of Magazine Editors in 1998. He received the Henry Johnson Fisher Award, the highest honor of the Magazine Publishers of America. Hefner has displayed a lifelong dedication to the film industry and is concerned with film preservation and even championed the restoration of the Hollywood sign, for which he earned a star on the Hollywood Walk of Fame.
This bio was written at the time of Hugh Hefner's inauguration into the 2006 Illini Media Hall of Fame. Mr. Hefner died September 27, 2017.