ALLAN R. LOUDELL

WPGU University of Illinois:
Class of 1977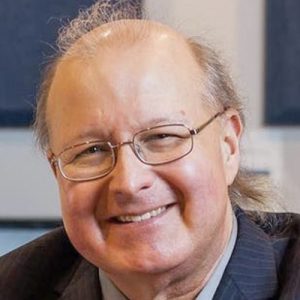 Allan R. Loudell arrived at WPGU in the fall of 1973 a fully formed radio news pro. As a freshman who'd been trained at Lyons Township High School's WLTL-FM in Chicago's suburbs, Loudell quickly rose in the ranks to become WPGU's news director—among other things displaying an early mastery of election coverage. In his time at the station and in the years after, Loudell inspired his contemporaries and students who followed—at Illinois and at his high school—to follow his path into radio news. His career took him to Memphis and eventually to Delaware, where his work at WILM and WDEL impressed listeners and subjects—including future President Joe Biden, whom a mutual friend quotes as having said, "I think Allan Loudell is the smartest person I know."
Loudell's extensive network of local, national, and international journalists earned him the title "Man of a Million Sources" from Delaware Today in 2011. His many awards included a National Association of Broadcasters Crystal Radio Award and the Society of Professional Journalists' "Best Radio Newscast" honor.
But Loudell was about much more than radio. His friends and colleagues celebrate his love of trivia, vexillology, lepidopterology, entomology, nature photography, license plates, model railroading, craft beers … and Dr. Pepper. Loudell died in 2020 at the age of 64.
This bio was written at the time of Allan Loudell's inauguration into the 2022 Illini Media Hall of Fame.