BUDGE SPERLING
Daily Illini: 1933-36
News and sports reporter University of Illinois:
B.S. in Journalism, 1937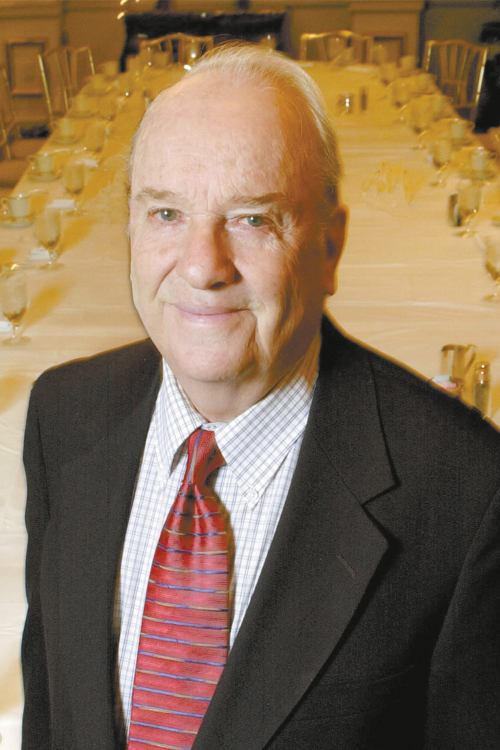 In the land where there's no such thing as a free lunch, Godfrey "Budge" Sperling offered breakfast instead. For 33 years, Sperling hosted his famous forums in Washington, D.C., bringing together top politicians and journalists for 3,241 mornings of bacon, eggs and tough questions. Sperling was the exception to the rule that journalists couldn't garner the respect of politicos, namely because he was exceptional.
But before he stood as a giant in the nation's capital, Sperling worked at The Daily Illini as a news and sports reporter. During his senior year, he worked on the staff of the Champaign News-Gazette before receiving his degree in journalism in 1937.
In the 30 years between his graduation and his first breakfast, Sperling was well-traveled, serving in the U.S. Air Force for five years and then getting his first position with the Christian Science Monitor in 1946. And though his initial job was to interview potential subscribers for the publication, he later began a storied career that would span six decades with the Monitor. He was bureau chief in Chicago, New York and, of course, Washington, where his breakfasts became a Capital Hill institution.
Sperling's guests included Presidents Ford, Carter, Reagan and Clinton, a handful of vice presidents and hundreds of prominent politicians and journalists. His breakfasts were so engrained into the Washington culture that it was once written, "You cannot be taken seriously in Washington until you have done the Sperling breakfast." Meanwhile, his work as senior columnist for the Monitor was groundbreaking. He traveled with heads of state when the rest of the press was left behind, worked 24 political conventions and shaped front-page political news for three decades. He retired from the Monitor in 2006, five years after presiding over his final breakfast.
In 1987, Sperling received the University of Illinois Alumni Association's Illini Achievement Award, the highest honor for University alumni. The audiotapes from his legendary interviews have been donated to the University's College of Media where they will forever document Sperling's unmatched work in Washington.
This bio was written at the time of Budge Sperling's inauguration into the 2008 Illini Media Hall of Fame. Mr. Sperling died in September 2013.