IRIS CHANG
The Daily Illini: 1987-89
Features writer University of Illinois:
B.S. in Journalism, 1989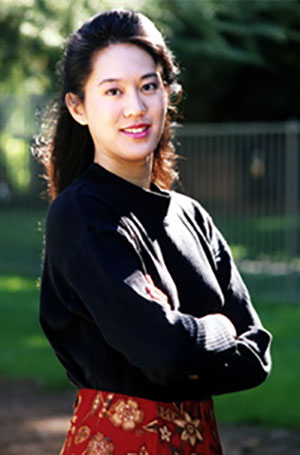 Iris Chang was one of the nation's leading young historians before her 2004 death. Throughout her life, Chang was instrumental in capturing Asian-American history. She also focused on human rights. Her international best-seller, The Rape of Nanking, examined the slaughter, rape and torture of hundreds of thousands of Chinese civilians by Japanese soldiers during World War II. The book became a New York Times best-seller and a New York Times Notable Book. Her first book, Thread of the Silkworm, was about how Cold War hysteria influenced American foreign policy. She also wrote The Chinese in America, a history of the treatment of Chinese-Americans as outsiders throughout American history.
Although she is most known for her books, Chang also wrote for the New York Times, Newsweek and the Los Angeles Times. She appeared as a guest on various television programs and radio programs. She also worked for The Associated Press and the Chicago Tribune before completing a master's degree in writing from John Hopkins University.
Among her numerous awards, Chang won the John D. and Catherine T. MacArthur Foundation's Program on Peace and International Cooperation Award, the Woman of the Year award from the Organization of Chinese Americans and two honorary doctorates.
At the time of her death, Chang was researching a fourth book about the Bataan Death March and was promoting The Chinese in America. Chang is survived by Bretton Douglas, her husband, and son, Christopher.
This bio was written at the time of Iris Chang's posthumous inauguration into the 2006 Illini Media Hall of Fame.